Author: crossaffliction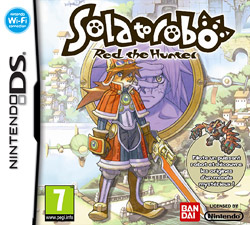 Solatorobo: Red the Hunter is a story-based role-playing game for the Nintendo DS, featuring character design that should more than appeal to furries. If anything, it's as furry as any Star Fox game, and the characters' animal nature has more effect on the story than just punny names.
The game is some sort of prequel/sequel/something to a game called Tail Concerto. I missed that one, so this was my first introduction to the setting.
I would recommend Solatorobo: Red the Hunter on the art alone, but I do add some reservations. The game came out a month ago, but it isn't so difficult it took me a month to beat it. The problem is that neither the story nor the gameplay were good enough to keep my interest, and I often put it aside.
There was nothing wrong with either, but nor was there anything right. The gameplay was not gripping, while the story had few real moments.
I recommend the game as furry art that you can play; as a game by itself, it is weak.
Xseed, September 2011 – $ 34.99 on Amazon
Find the full article here: flayrah – furry food for thought
Creative Commons: Full post may be available under a free license.