Author: Fred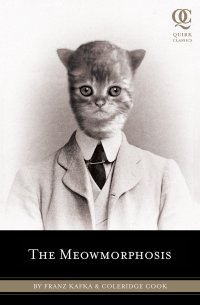 Or "by Franz Kafka & Coleridge Cook", as the cover and title page say. This is a rewriting by Cook of Kafka's famous novella to turn Gregor Samsa from a giant insect into an adorably cute kitten.
This is a straightforward copy of Kafka's text, with just the descriptions of Samsa-as-an-insect changed to make him a kitten and to do kittenish things. "He lay in bed on his soft, fuzzy back and saw, as he lifted his head a little, his brown arched abdomen divided into striped bowlike sections."
Upon seeing the picture of a woman in a fur hat and fur boa, "Samsa felt a powerful urge to leap upon the sample clothes and scratch at them thoroughly, but as soon as it had come, it passed."
Illustrations by Matthew Richardson. Quirk Books, May 2011. Trade paperback, $ 12.95 (206 pages)
Find the full article here: flayrah – furry food for thought
Creative Commons: Full post may be available under a free license.