Author: Patch Packrat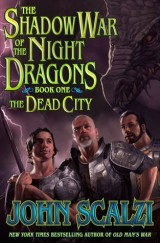 Award-winning sci-fi author John Scalzi used a kitten campaign to win a poll by prominent SF publisher Tor, for his short story Shadow War of the Night Dragons: Book One: The Dead City: Prologue.
His novel Fuzzy Nation (review), a reboot of H. Beam Piper's 1962 novel Little Fuzzy, placed 8th in its category. From Tor:
For those unfamiliar with Scalzi's story, its origin can be traced back to our Best SFF Novels of the Decade Readers' Poll and the subsequent data it generated in regards to most used words in fantasy titles. We joked that "Shadow War of the etc etc etc." would be a powerhouse of a fantasy tale and lo, John Scalzi made our dreams come true a few weeks later.
Blotch's Nordguard: Across Thin Ice (review), published by Sofawolf Press, was #1 in comics.
Find the full article here: flayrah – furry food for thought
Creative Commons: Full post may be available under a free license.