Author: GreenReaper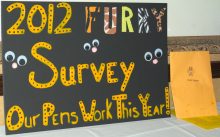 The Anthropomorphic Research Project has launched its Winter 2012 survey, open to participants 18 or above.
The survey was also given at Furry Fiesta last weekend, where the team handed out 815 survey packets – though only 334 were returned. Respondents have a chance to win a $ 50 Amazon.ca gift card.
The research group's prior results have included distinguishing between furries and those identifying as therians and otherkin, identifying the core interests of the fandom, and measuring differences in gender, sexuality and relationships between furs and non-furs.
See more: Photos of researchers busily working at Furry Fiesta 2012