Author: Fred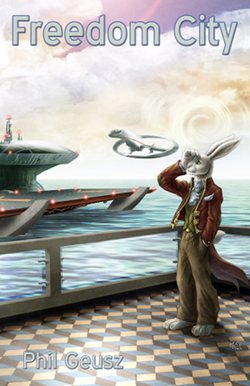 Freedom City may be Phil Geusz's most didactic s-f novel to date. The undated setting is roughly 100 years in the future. The locale is Freedom City, a nation-state on a very large and complex artificial platform constructed in international waters in the Caribbean. Geusz's futuristic bioengineering transmutation science is displayed here. Most citizens of Freedom City are happy to remain human, but Harvey Foote, the protagonist, and his major rival have had themselves transmuted into a funny-animal rabbit and a cat for pertinent reasons. The rabbit-man has a large rabbit staff; so does the cat-man, but his staff includes funny-animal tigers, pumas, lions, leopards, a Siamese cat, lynxes, jaguars, and every feline that can be imagined. The story makes it clear that not only have humans chosen to be turned into anthropomorphic animals, there have been gender and age changes as well. Foote is a dynamically young 83 years old.
The novel is narrated by the rabbit-man, who is the manager of the Rabbit's Foot Casino, the largest (76 floors) hotel/casino on Freedom City. He has had himself and his staff bioengineered into funny-animal rabbits partly as publicity for his Rabbit's Foot, but mostly as a statement of individuality; to show what Freedom City's science and technology can do, and to thumb their noses at the U.S. government which says, "You aren't allowed to do that!"
FurPlanet Productions, March 2012, trade paperback $ 19.95 (275 pages; also on Amazon).
Find the full article here: flayrah – furry food for thought
Creative Commons: Full post may be available under a free license.