Author: Fred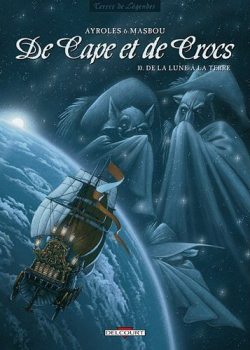 The French anthropomorphic bandes dessinees series De Cape et de Crocs (roughly With Capes and Fangs), featuring the exploits of a gentleman fox and wolf adventurers in 17th century Europe and on the Moon, has finally come to an end with Act 10, "De la Lune à la Terre" ("From the Moon to the Earth"), published by Delcourt on April 11, 2012.
The publisher's summary (translated):
Prince Jean vanquished, the Moon saved, the hour has come for Gentlemen de Villalobos [the Spanish wolf] and Maupertuis [the French fox] to dream of returning. But the ignoble Mendoza has not said his last word, and with love, honor, and friendship still opposing each other, the comedy can still turn to tragedy. Before withdrawing their reverence, our gentlemen-heroes still have terrible coups de théâtre to deliver. Will they arrive safely?
Find the full article here: flayrah – furry food for thought
Creative Commons: Full post may be available under a free license.