Author: GreenReaper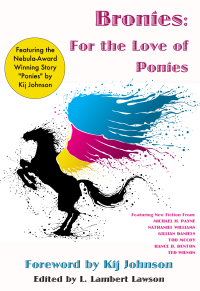 Kazka Press, best known for their flash fiction, is publishing Bronies: For the Love of Ponies – an anthology of short stories inspired by My Little Pony fandom.
The anthology – which is definitely not for kids – is edited by L. Lambert Lawson, and includes work by several well-known writers, including Kij Johnson's Nebula-winning "Ponies".
Furry fans may be most familiar with Michael H. Payne, writing guest of honor for the first Further Confusion, who won the predecessor to the Ursa Major Awards for his short story, "Familiars", and was featured in Best in Show. Michael won fame among bronies for his fan novel Half the Day is Night.
Kazka promises to have online pre-ordering for the $ 13.99+s&h paperback up soon. The e-Book ($ 9.99) is planned for June 20. Illustrations are by Galen Dara.
Samples: "The Extinctionists" - "Warden of the Valley" - "How Bacon Saved the Pony Express"
Find the full article here: flayrah – furry food for thought
Creative Commons: Full post may be available under a free license.