Author: Fred
Flight of the Godkin Griffin is an example of anthropomorphic literature at its best. It is told in the form of the diary of Mistress Commander Angharad Godkin, 48 years old, from the eve of her long-awaited retirement after thirty-four years in the army of the Godkindred Kingdom; at once obviously an inhuman army on another world.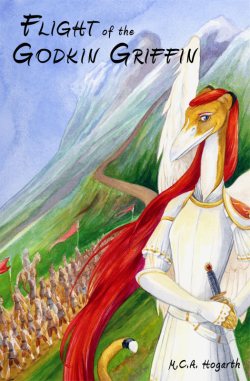 Angharad has been recuperating at Fort Endgame after being wounded at the battle for Glendallia; a Pyrrhic victory in which she lost most of her cavalry unit and half of her command staff. She is just packing to leave when she is summoned to the office of the Fort's commander:
The Mistress General hovers behind a desk, overlooking several maps and emitting a palpable air of tension. She has never elucidated her bloodlines to me, though to be named Godkin she must be the product of the interbreeding of at least ten species, as I am. In appearance, she is mostly mammalian, leaning toward genet or marten with rounded ears and a striped tail.

'Mistress General, you wanted to see me?' I ask.
'Yes,' she says curtly. 'Angharad Godkin, you are hereby assigned to replace the provincial governor of the newly pacified province of Shraeven, on orders of the Godson.'
My beak drops open in shock. Any soldier in the Godson's army can retire … unless they're on active duty.
Casandre sighs. 'Sit, Angharad.'
I refuse. 'I'm retiring tomorrow.'
'Not anymore,' she says. 'I'm sorry, Angharad, truly, but the Godson himself sent the orders. It's time for Governor Chordwain to step down.' (p. 3)
Sofawolf Press, June 2012, trade paperback $ 17.95 ([iii] + 243 pages). Illustrations, map by the author.
Find the full article here: flayrah – furry food for thought
Creative Commons: Full post may be available under a free license.