Author: Fred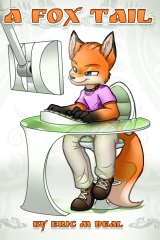 Has anyone ever heard of A Fox Tail, or of Eric Deal? According to CreateSpace, this has been out since March 2011. It makes Deal sound like a veteran and well-known Furry author.
Polar, a handsome arctic wolf, crosses paths with Vulpie just as the fox boy is about to unleash his life's greatest work, the computer Virus/AI, Vulpie.net. In a world of carnivores and herbivores, carnivores have the upper paws and everyone knows foxes control the media. Wolves are figureheads and make much of the success, but there has always been a sly fox somewhere in the fate of all great things. Polar and Vulpie display that, as Polar unknowingly meets a fox that will become famous, infamous, loved, and feared more than the dark goddess Aila herself.

Can Polar hold to his convictions? Is Vulpie a blessing or a curse? These questions are asked every day in the world of Sufias and the universe of Halvia. Wolf-fox romances have been frowned upon for centuries, yet with a love as strong as theirs what could possibly stand between them? Sometimes souls are destined to be together, and nothing can tear them apart.
Find the full article here: flayrah – furry food for thought
Creative Commons: Full post may be available under a free license.