Author: Fred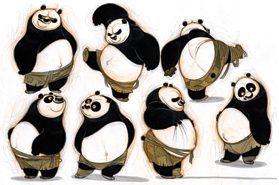 The Cartoon Brew website announces that the University of Southern California's School of Cinematic Arts Gallery is presenting an exhibit, "DreamWorks: Behind the Scenes, Production Art from DreamWorks Animation" from July 30 through September 7.
DreamWorks' works include more than just anthropomorphic animals, of course (Prince of Egypt, anyone?), but there has been SO MUCH anthropomorphization in its 24 features!
The exhibition includes more than one hundred digital prints and approximately thirty traditional paintings and drawings on paper; two miniature sets; three character maquettes; two set pieces – an 8′ high Kung Fu Panda "Po" statue and the new Rise of the Guardians standee; and three media stations displaying animation tests, stereo footage, and the Rise of the Guardians trailer. There will also be a contemporary animation work station on display, with demonstrations given by current Hench-DADA students.
Find the full article here: flayrah – furry food for thought
Creative Commons: Full post may be available under a free license.