Author: Mister Twister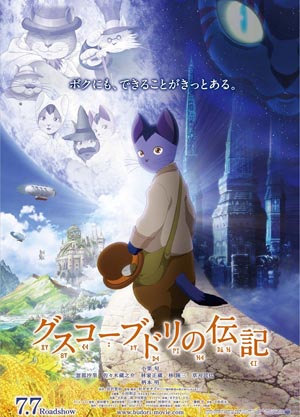 Enough to include them in anime OH SO VERY OFTEN, and make a considerable number of movies starring them.
This one is an interesting example [site fails sporadically; alternate trailers] – directed by the same person responsible for Night on the Galactic Railroad (IMDB) and based, again, on a work by Kenji Miyazawa. And once again, the director used cats to tell the story. (Most of the character designs were lifted from Galactic Railroad as well.)
The romanized version of the movie's title is Guskô Budori no Denki, or "The Life of Guskô Budori". Set in 1920, Guskô is forced to leave his home in the forests of the Tōhoku region of Japan after a series of natural disasters, joining scientists in the Ihatov Volcano Bureau who are studying them. Meanwhile, Guskô pursues the wintery tomcat who stole away his sister. Released July 7 in Japan.
Find the full article here: flayrah – furry food for thought
Creative Commons: Full post may be available under a free license.