Author: GreenReaper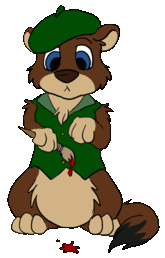 A new site is to open this year: Weasyl, for "artists of all kinds". But they need money to do so…and the countdown ends Tuesday.
If funding falls short, the group will still be paid, but must forfeit an additional 5% – up to $ 250 – as well as the regular fee of up to 7%.
A variety of artists are offering services to donors, who can also receive paid site access, ad space, and merchandise.
Staff plan to use cloud hosting (Amazon S3 and EC2), rather than purchase their own servers. The site is being organized by a team of eighteen, headed by co-owners Benchilla and Kihari, and lead admin Taw Echo.
Three staff gave an hour-long presentation at Anthrocon 2012. Members also promoted the site at this year's FWA.
Weasyl links: Tumblr, Twitter and Facebook accounts — Screenshots — Forums
Find the full article here: flayrah – furry food for thought
Creative Commons: Full post may be available under a free license.