Author: Fred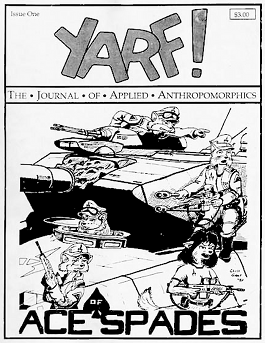 This article is enlarged from a chronology originally printed for an exhibition at L.A.con III, the fifty-fourth annual World Science Fiction Convention, 29 August–2 September 1996, at the Anaheim Convention Center, Anaheim, California. It was originally published in Yarf! #46, January 1997. Yarf! published it separately online, where it has been a valuable Furry historical reference for fifteen years, with links to it from Wikipedia, WikiFur, the Furry News Network, and many other websites.
In February 2012, Yarf! disappeared without warning from the Internet, and all the links to this chronology stopped working. To restore it to the Internet, Flayrah has agreed to reprint it, slightly revised and with illustrations.
There is no single specific date or event that can lay claim to being the birth of furry fandom. However, there is general agreement that it was around late 1983 or early 1984 that furry fans coalesced out of SF fandom and comics fandom and began an independent identity.
Find the full article here: flayrah – furry food for thought
Creative Commons: Full post may be available under a free license.