Author: Fred
Before Transformations and More Terrible Than Chains, so much more happened. Learn about one chakat family's lives and customs, loves and hates, friends and foes. Join with us as Chakat Forestwalker recounts tales of hir experiences and those of hir family and friends. (back-cover blurb)
Melbourne Furry fan Bernard Doove has been writing his chakat stories on his website "The Chakat's Den" since 1995. Beginning in 2006 he began compiling his short stories into books, starting with Transformations, Jazmyn, and More Terrible Than Chains, which were story arcs that made separate novels. Now Doove has returned to his earliest stories, which did not.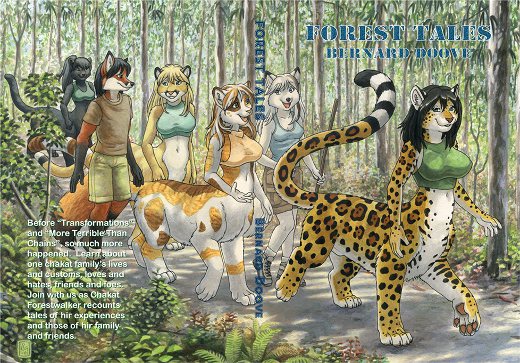 Forest Tales contains the first twenty-seven stories in that series, redubbed "episodes", written between 1995 and 2002. There are many more, but the series breaks easily at this point. Doove is the primary author, although four of the twenty-seven were written in collaboration with other authors, and one is written by Christian Neumann.
CreateSpace, May 2010, trade paperback $ 25.95 (466 pages; illustrated); e-book $ 16.99.
Find the full article here: flayrah – furry food for thought
Creative Commons: Full post may be available under a free license.