Author: Micah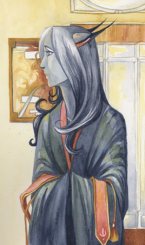 M.C.A. Hogarth is raising money on Kickstarter for print, e-book and audiobook editions of her fantasy of manners serial Black Blossom, sequel to The Aphorisms of Kherishdar and The Admonishments of Kherishdar (review), featuring the Ai-Naidar – a race of feline aliens.
Money raised is to go towards "cover art, layout; all the things that make a physical book great." Backer rewards include the book, e-book or audiobooks, calligraphy bookmarks, and related short fiction.
A week from conclusion, the fundraiser has passed several stretch goals, and stands at $ 4646 of its initial $ 1500 goal (with 95 backers).
Find the full article here: flayrah – furry food for thought
Creative Commons: Full post may be available under a free license.