Author: Fred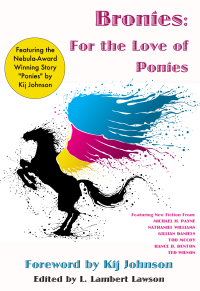 The title and subtitle, Bronies: For the Love of Ponies suggests that this is an anthology of stories set in the My Little Pony: Friendship is Magic world. Not exactly. Oh, there's no question that Hasbro's mega-popular MLP:FIM October 2010 TV cartoon series is the inspiration for this anthology. But these fifteen stories go beyond what might be expected of your typical Brony fan-fiction.
"This anthology, then," says Kij Johnson at the end of her Foreword, "is a melting pot for all these things. Bronies. Boys and ponies. Girls and ponies. Girls and bronies. Boys and horses. Humans and alien things remarkably like horses but not quite. Pubescent crushes on things that are not other pubescents. Adult crushes on intellectual properties. And so forth. Maybe even girls and their horses." (p. 9)
Kazka Press, June 2012, trade paperback $ 13.99 (207 pages); Kindle/Nook $ 8.99. Edited by L. Lambert Lawson. Foreword by Kij Johnson. Illustration by Galen Dara.
Find the full article here: flayrah – furry food for thought
Creative Commons: Full post may be available under a free license.