Author: Fred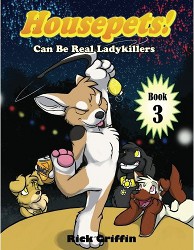 Hooray! Rick Griffin leads off this third annual collection of his Ursa Major Award-winning Housepets! comic strip with a real title page. A snarky title page, but nevertheless a title page.
For those who are not already reading Housepets!, the Monday-Wednesday-Friday-updating Internet full-color strip (and why not? It won Best Anthropomorphic Comic Strip for three years running, 2009 to 2011, and it's free), Book 3 collects the strips from May 31, 2010 to June 3, 2011. These are the story-arcs #31, "Spot McCloud Presents Comics" to #42, "Not All Dogs", plus all the one-off gag strips between.
North Charleston, SC, CreateSpace, August 2012, trade paperback $ 13.95 (56 pages; non-US purchase available).
Find the full article here: flayrah – furry food for thought
Creative Commons: Full post may be available under a free license.