Author: crossaffliction
"Educated horses. Don't you want to ride it?"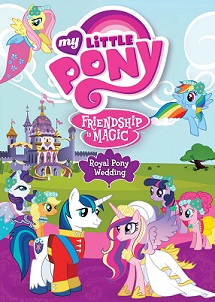 - Rob Zombie, "Foxy Foxy"
During a fairly routine to a local Wal-Mart, I stopped by the "Entertainment" section because, due to geographic isolation, Wal-Mart is the only source for new books and movies I have. You see what I have to work with here?
Anyway, I was pleasantly surprised to find a copy of Mr. Zombie's latest remix album, Mondo Sex Head in the new CDs display and a My Little Pony: Friendship is Magic "Royal Pony Wedding" DVD in the television section. As these two unlikely cart-mates made their way to the checkout lane, I wondered what in my personal history could have led to this moment. I cannot remember any specific inciting incident, and do not have the scars necessary for amnesia due to massive head trauma, so I must have repressed it.
But perhaps there is some weird connection; after all, Mondo Sex Head features a kitten on the album cover, I have trouble remembering if "Black Sunshine" is a White Zombie song or a background pony, and that Queen Chrysalis is fairly scary, considering. Mondo Sex Head is good in its way, and My Little Pony: Friendship is Magic is good in its own. However, despite song titles such as "Foxy Foxy" and "Superbeast", and lyrics like "tender is the fur," only one is furry enough to be reviewed on Flayrah.
Find the full article here: flayrah – furry food for thought
Creative Commons: Full post may be available under a free license.