Author: Fred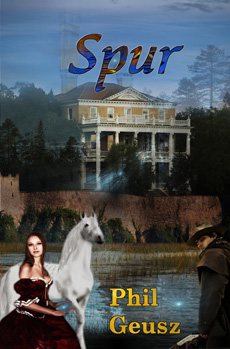 It is not easy to tell the setting of Spur at first. It seems to be our world, but Merle Castison, the first-person narrator, is a talking Andalusian stallion which nobody seems to consider strange. Disreputable, maybe, but not strange. Merle has agreed to accept the curse to be turned into a horse of rich industrialist Arthur Beckmann, for $ 10,000 a month, upkeep in a palatial stable with phone, TV, and computer on Beckmann's luxurious horse-farm, his oldest and best friend Cole as his personal groom, a customized spell to allow him to keep human vision and speech, and frequent visits from his human RPG-playing friends.
Merle's workaholic father disowns him for choosing Easy Money over Hard Work, but Merle doesn't see what's wrong with taking advantage of a cushy offer that is honest, although he privately agrees with his father that he has not accomplished anything notable in his thirty-eight-year life. Nobody would want to become a horse permanently, but this is just until Beckmann dies; then Merle will revert to human with all the $ 10,000 monthly payments he's saved.
Except that Beckmann dies and Merle stays a horse.
Melange Books, May 2012, trade paperback $ 14.95 (209 pages; Amazon), PDF or HTML $ 5.99.
Find the full article here: flayrah – furry food for thought
Creative Commons: Full post may be available under a free license.