Author: GreenReaper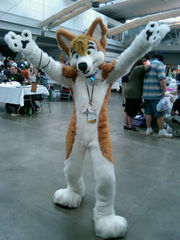 Results are in for the 2012 Fandom's Favorite Fursuit Fracas, with Howee Husky victorious over Matrices' Beef Jerky.
The husky won by a 20-vote margin, 209 to 189. Oz Kangaroo's Duke beat Clementine 200–165 in a showdown for third place.
The tourney was briefly suspended after the quarter-finals, when fursuit builder FirestormSix withdrew Dakkota Wolf, claiming to have been slandered by an opposition supporter.
2012 saw a crossover with the Furry Basketball Association, which provided names for the group brackets used for the single-elimination portion of the competition.
Organizers say almost 400 matchups were made and 70,000 votes taken during the Fracas.
See more: Complete competition bracket – coverage of the 2011 and 2010 tourneys
Find the full article here: flayrah – furry food for thought
Creative Commons: Full post may be available under a free license.