Author: Higgs Raccoon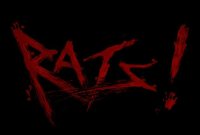 "RATS!", a satirical rat-themed role-playing game, is seeking sponsorship on the crowd-funding site Indiegogo. In the game, players will take on the roles of intelligent rats who are engaged in a holy war against modern humanity, other animals, each other, and "numerous inanimate objects".
RATS! will be based on the third-edition d20 system. Rat characters advance by spending experience points to gain new abilities and mutations, and by growing in size. The rules are being developed by Uri Kurlianchik and Stan Levi. Kurlianchik is a game writer and storyteller from Israel, whose works have been published by Wizards of the Coast, Paizo Publishing, Mongoose, Bull Spec, and Brain Harvest. Levi is an artist, illustrator, and animator.
Find the full article here: flayrah – furry food for thought
Creative Commons: Full post may be available under a free license.