Author: Fred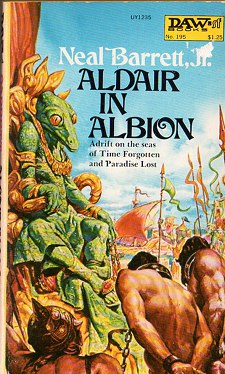 It's not easy any more for a s-f author to come up with a totally fresh plot. Most new fiction relies on variations of familiar themes. How successful it is depends upon how adept the author is in making old ideas seem new, or in making his writing so interesting that the reader is caught up even though the outcome is predictable. Aldair in Albion is a considerable success in the latter case.
The story is related in the first person by Aldair, who is (when we meet him) a student in a primitive community reminiscent both of the northern Roman frontier and of medieval European college towns.
It is immediately revealed that Aldair and his compatriots are not human, although they believe themselves to be. There are also references to forbidden ruins and mysterious godlike forerunners. In other words, Barrett makes no secret from the outset that he's working another variation on the Genus Homo/Planet of the Apes theme, and that he doesn't expect the climax to be nearly as big a mystery to the reader as it is to Aldair. But it doesn't matter, because the interest in the novel is not on what will happen but on how the events will affect Aldair and his friends.
DAW Books, May 1976, paperback $ 1.25 (205 pages); Kindle $ 3.99. Frontispiece by Josh Kirby.
Find the full article here: flayrah – furry food for thought
Creative Commons: Full post may be available under a free license.