Author: crossaffliction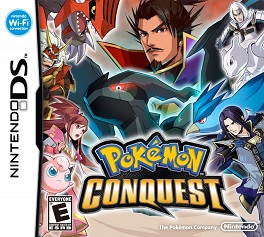 With The Dark Knight Rises and The Avengers hitting theaters this summer and together making approximately all of the money, conversations at work have gotten weird. I mean, I have definite opinions on which superhero would win against which superhero in a fight (for the record, Squirrel Girl always wins, Batman never loses and Rainbow Dash beats Starscream), but these people are not geeks. They could probably beat me up, they have social lives outside of the Internet and I'm pretty sure they've all lost their virginity.
Okay, I get it, comic books are cool now, although my coworkers were still so puzzled by Squirrel Girl that I was spared from having to explain who Rainbow Dash is. But when they debated whether Mewtwo or Professor X* was the better psychic, I almost lost it. I am not sure I like this brave new world where even Pokémon are cool.
The good news is, Pokémon Conquest for the Nintendo DS is not cool. How not cool? Well, it came out in June, I am reviewing it in September, and have almost wasted 200 words not talking about it. I guess I should start doing that.
Find the full article here: flayrah – furry food for thought
Creative Commons: Full post may be available under a free license.