Author: Fred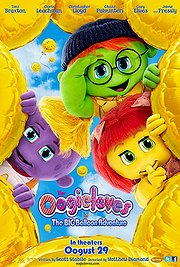 Are they anthropomorphic? Thank Roscoe there is nothing like them in real life!
There has been so much successful anthopomorphization in animation in the last few years that we tend to forget that anthropomorphization can be done in full-body suits, too – and I don't mean fursuits! The Oogieloves are a throwback to Barney the purple dinosaur or H.R. Pufnstuf, except that Sid & Marty Krofft did it better back in 1969.
The Oogieloves in The Big Balloon Adventure, released in over 2,000 theaters on "Oogust" 29, features Goobie, Zoozie, and Toofie (they're anthropomorphic somethings!) who live in Lovelyloveville, in a feature that encourages the audience to talk, sing, and dance in the aisles while the movie is going on; with cameos by live-action Toni Braxton, Cloris Leachman, Christopher Lloyd, Cary Elwes, Jaime Presley, Chazz Palminteri, and others.
The distributor is Kenn Viselmann, the former producer of Thomas the Tank Engine and Teletubbies, which will tell you what age group he is aiming for (old enough to sing and dance in the aisles; too young to have cel phones).
The Cartoon Brew website, which has covered this release, reports that this has gotten "disasterous reviews" (LA Times – NY Times). But Rotten Tomatoes gives it a 38% rating (Ed: now down to 30%), which means that several reviewers did like it. Hmmm. Watch the trailer and decide for yourself – if you are not too embarrassed for Toni Braxton, Cloris Leachman, Christopher Lloyd, et al., acting like retarded idiots.
Find the full article here: flayrah – furry food for thought
Creative Commons: Full post may be available under a free license.