Author: crossaffliction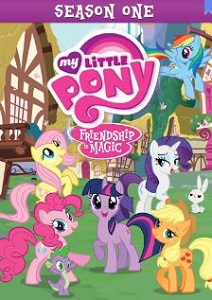 Shout! Factory has announced two new My Little Pony: Friendship is Magic releases, available December 4.
The first is the third in Shout! Factory's themed series; "Adventures in the Crystal Empire," and will most likely feature episodes from the upcoming third season, with a bare minimum of extras. Likely to be available from most DVD retailers, it can be preorderd on Amazon for $ 10.48.
The second is an Amazon exclusive four-disc DVD box set of season 1, on sale for $ 24.49. Equestria Daily reports that "Cast and Crew" audio commentary will be available.
See also: Ready or Not, the ponies return this Saturday — Ponies come to DVD — Applejack is the best pony — Review: MLP:FiM Royal Pony Wedding DVD (w/bonus kitty)
Find the full article here: flayrah – furry food for thought
Creative Commons: Full post may be available under a free license.