Author: GreenReaper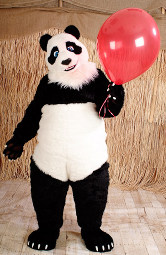 Fursuiter and fan organizer PandaGuy (Jon Albers) died Sunday at age 44, after kidney failure due to diabetes. [tip: Antimon]
PandaGuy was an ardent fursuiter, acting out the eponymous PandaGuy (created in 1996, rebuilt twice), Amiri Lion, Bamboozle the panda/coon, Boris Bear, Arkune Raccoon, and Big/Little Jabari.
Despite suffering from congestive heart failure in 2004, PandaGuy threw himself into organizing PandaGuy's Picnic, held annually to 2006. He was a guest of honor for Mephit Fur Meet 12 in 2008.
Find the full article here: flayrah – furry food for thought
Creative Commons: Full post may be available under a free license.