Author: GreenReaper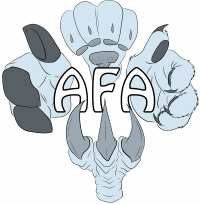 Furry advice columnist Grubbs Grizzly has incorporated the American Furry Association, which he hopes will become a leading non-profit in support of the furry community.
According to Grubbs, the organization's mission is:
[…] to serve as an educational resource and think tank for the furry community, with the goal of promoting furry arts and furry businesses, fostering better communication among furries in the United States, and dispelling misinformation about the furry fandom both within and outside its membership.
Grubbs says the AFA is not restricted to policy, but may provide services such as a membership directory, unique-named fursona registration and business yellow pages, awards, convention and business organization services (including grants and job boards), lists of fandom resources/news, member discounts, group insurance, and media relations.
Find the full article here: flayrah – furry food for thought
Creative Commons: Full post may be available under a free license.