Author: Isiah Jacobs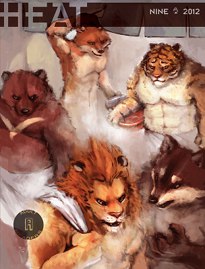 Isiah had the chance to interview most of the contributors to annual adult anthology Heat 9, published by Sofawolf; some could not be reached for interview. Related interviews: Camron & Vantid – Alopex – Kandrel & Scappo
Isiah Jacobs: Good evening, Ms. Dryden, thank you so much for coming on!
Huskyteer: Thank you for inviting me!
Isiah Jacobs: You submitted a story to Heat 9 this year, and it was illustrated by Cara Mitten. Unfortunately, she couldn't join us.
Huskyteer: I should confess I haven't got my mitts on my copy of Heat yet, so I haven't seen the illustrated version. I hope it gets through Customs. Sometimes stuff from the US arrives in a matter of days, sometimes it…doesn't.
Isiah Jacobs: Your story is called "Bad Timing." Could you please briefly explain what your story is about?
Find the full article here: flayrah – furry food for thought
Creative Commons: Full post may be available under a free license.