Author: Isiah Jacobs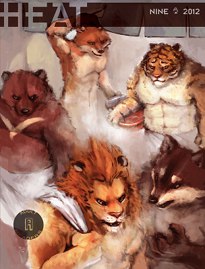 Isiah had the chance to interview most of the contributors to the annual adult anthology, Heat 9, published by Sofawolf; some could not be reached for interview. Related interviews: Kandrel and Scappo – Alopex
Isiah Jacobs: Good evening, Camron! Vantid! Thank you both so much for coming on the show!
Vantid: Good to be here.
Camron Cucce: Good evening, Isiah. Thanks for having us. Pleasure to be here in old Detroit.
Isiah Jacobs: I don't think it would really be a pleasure, but alright! Camron, for this year's edition of Heat you decided to write a poem and it was illustrated by Vantid here. Could you tell me what this poem is about, please?
Camron Cuccu: It's simply about the joy of love and discovery. We meet the narrator in the flush of first love – or perhaps lust, call it puppy love if you will — and follow him through heartache and on to new horizons.
Isiah Jacobs: And falling in love with other people after their first, right?
Find the full article here: flayrah – furry food for thought
Creative Commons: Full post may be available under a free license.