Author: Isiah Jacobs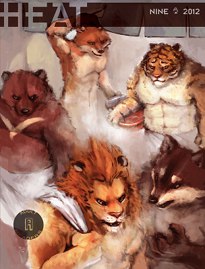 Isiah had the chance to interview most of the contributors to the annual adult anthology, Heat 9, published by Sofawolf; some could not be reached for interview.
Isiah Jacobs: Good evening, Kandrel, Scappo. Thank you both so much for coming on to the show. I really appreciate this! Kandrel, I understand you submitted a story to this year's volume of Heat and Scappo, you provided the illustrations. Have you two heard of each before you were brought on to do Heat?
Kandrel: Yeah, I had definitely heard of Scappo before. I tend to try to keep my eye on good artists. Mainly because I like collecting art. Usually I recognize most of the artists that are up and coming by name, if not by their style.
Scappo: Well, I'm glad you like my art! Heh. I had never heard of Kandrel before, but that's usually because I've got my head buried in commissions. So I don't really have a whole lot of time to read. But I did read and enjoy "Better". I think it's one of the better stories that I've read.
Find the full article here: flayrah – furry food for thought
Creative Commons: Full post may be available under a free license.