Author: Isiah Jacobs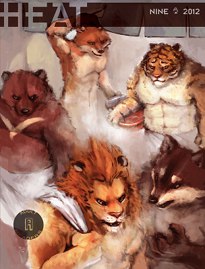 Isiah had the chance to interview most of the contributors to annual adult anthology Heat 9, published by Sofawolf; some could not be reached. Related interviews: Whyte Yote & Alastair Wildfire – Camron & Vantid – Alopex – Huskyteer – Kandrel & Scappo
Isiah Jacobs: Good evening, Nimrais, thank you so much for joining us tonight! It's nice to have you on the show! Kyell, always a pleasure!
Nimrais: Good evening, it's a pleasure to talk to you two!
Kyell Gold: Likewise! Thanks, Isiah, for setting this up.
Isiah Jacobs: Obviously, you two produced content for Heat 9 this year; a story called "Rewind". Before we discuss the story itself, I'm just curious. Have you two heard of each other before this?
Find the full article here: flayrah – furry food for thought
Creative Commons: Full post may be available under a free license.