Author: Isiah Jacobs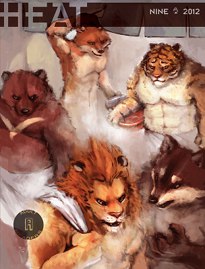 Isiah had the chance to interview most of the contributors to annual adult anthology Heat 9, published by Sofawolf; some could not be reached. Related interviews: Camron & Vantid – Alopex – Kandrel & Scappo – Huskyteer
Isiah Jacobs: Good evening, gentlemen! Thank you both so much for joining me tonight, it's a pleasure to have you both on the show!
Whyte Yote: Thanks for having us.
Isiah Jacobs: Whyte, Alastair, as I understand it, you both have sort of collaborated in this year's issue of Heat. Whyte, you wrote a short story called "Two Minutes" and Alastair, you provided the illustrations.
Whyte Yote: Well, I wouldn't call it "collaboration" as much as "I didn't know who was doing my illustrations until Alopex told me after they were done." XD He likes surprises. Plus, publisher's prerogative.
Find the full article here: flayrah – furry food for thought
Creative Commons: Full post may be available under a free license.