Author: Isiah Jacobs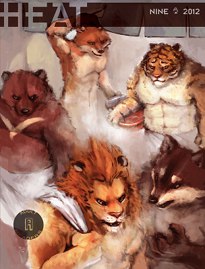 Isiah had the chance to interview most of the contributors to annual adult anthology Heat 9, published by Sofawolf; some could not be reached. Related interviews: Whyte Yote & Alastair Wildfire – Camron & Vantid – Alopex – Huskyteer – Kandrel & Scappo – Kyell Gold & Nimrais
Isiah Jacobs: Hello again, Tempo! Welcome back to the show! It's been too long!
Tempo: Happy to be back.
Isiah Jacobs: So, you have a story in this year's publication of Heat. And you were actually able to get it illustrated by Blotch!
Tempo: Yep! The story behind that story starts a couple years back when Blotch and I were talking about what we liked in each other's work. I liked that Blotch's pics often felt like they had a world behind them, like there were stories behind them. They ended up asking if I wanted to write one of those stories and we paged through their prints until we found "The Prisoner". (NSFW)
Isiah Jacobs: That's the one with Drust tied to a tree or something, right?
Find the full article here: flayrah – furry food for thought
Creative Commons: Full post may be available under a free license.