Author: Chipotle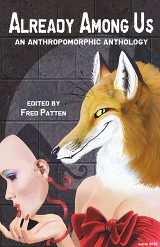 Unlike many of the other anthologies produced primarily for the furry fandom, Already Among Us draws on works by authors in the larger arena of science fiction, from the 1940s through the 2000s. The only "furry" author represented is Michael Payne–and with a story of his that appeared in Asimov's Science Fiction. While Already Among Us may have a little trouble getting beyond the furry audience, this isn't a problem with the story selection.
Already Among Us: An Anthropomorphic Anthology
Edited by Fred Patten. Cover art by Roz Gibson.
Legion Publishing, June 2012. Hardback $ 18.99+$ 5 s&h, trade paperback $ 9.99+$ 5 s&h (389 pages); Kindle $ 8.99.
Find the full article here: flayrah – furry food for thought
Creative Commons: Full post may be available under a free license.