Author: Fred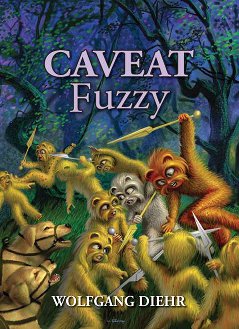 Caveat Fuzzy is, depending on how you look at it, the fifth or seventh novel in the "Fuzzy" series started by Little Fuzzy by H. Beam Piper. Piper wrote novels 1 and 2, Little Fuzzy (January 1962) and Fuzzy Sapiens/The Other Human Race (June 1964), and committed suicide. There was a long hiatus while Piper's semi-legendary third "Fuzzy" novel was searched for. In the interim, William Tuning wrote the approved 3rd novel, Fuzzy Bones (December 1981); and Ardath Mayhar wrote the 4th, Golden Dreams: A Fuzzy Odyssey (October 1982).
Then the lost manuscript of Piper's Fuzzies and Other People (August 1984) was rediscovered, which directly contradicted basic plot elements of Fuzzy Bones and Golden Dreams, so those were declared non-canon and Fuzzies and Other People was recognized as the legitimate novel 3. More than twenty years went by, and Fuzzy/Piper fan Wolfgang Diehr wrote a fan novel, Fuzzy Ergo Sum (March 2011) that was so well-liked by the Piper estate that it was published as novel 4. However, while the previous "Fuzzy" novels had been self-contained, Fuzzy Ergo Sum ended on a cliffhanger with much of the story still to come. Caveat Fuzzy (August 2012) is that sequel, novel 5.
Boalsburg, PA, Pequod Press, August 2012, hardcover $ 36.00 (394 pages), Kindle $ 7.99.
Find the full article here: flayrah – furry food for thought
Creative Commons: Full post may be available under a free license.