Author: Fred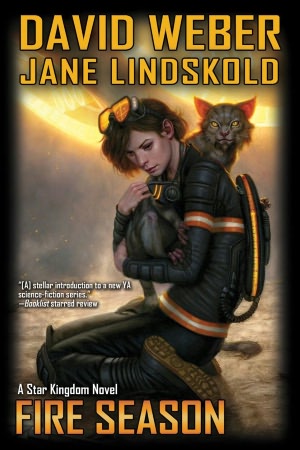 Weber gets a co-author in this second of Baen Books' series of Star Kingdom books for Young Adults, and the sequel to Weber's A Beautiful Friendship, reviewed here last October. This new series is a prequel to Weber's immensely popular Honor Harrington series of military science-fiction. This new series is set about 350 years earlier, when the planet Sphinx is just being settled by humans. In A Beautiful Friendship, Honor's ancestor Stephanie Harrington, then an 11-year-old precocious tomboy, discovers Sphinx's six-legged empathetic treecats, and bonds with the one she names Lionheart, but whose own name is Climbs Quickly.
The (almost) equal time given to the treecats, who are background characters in the Honor Harrington novels, is what makes this series anthropomorphic.
Despite their name, treecats were not all that feline. For one, no Terran cat had ever possessed six limbs or a fully prehensile tail. Their build was longer and – beneath their fluffy coats – leaner. They were also larger, averaging sixty to seventy centimeters through the body, with their tails doubling the length. And, of course, no Terran cat had three-fingered hands with fully opposable thumbs.
Riverdale, NY, Baen Books, October 2012, hardcover $ 18.99 (287 pages)
Find the full article here: flayrah – furry food for thought
Creative Commons: Full post may be available under a free license.