Author: crossaffliction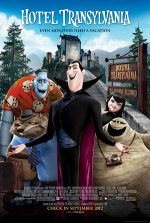 I watched Hotel Transylvania because I have a weakness for Gothic archetypes, not because I was expecting it to be any good. It is a movie not only starring Adam Sandler, but even produced by him. Well, I can say this is the best thing Adam Sandler has done in years, but that still does not matter much on the good to bad scale.
I did not watch this movie because I intended to review it for Flayrah; about halfway through the climax, in which the movie's protagonist takes the form of a talking bat and sticks that way until the denouement, I realized furries might want to know that. I mean, yeah, werewolf in the trailers and TV spots and all, but if you decide to see this movie, see it for the cute talking vampire bats.
Not much else reason.
Find the full article here: flayrah – furry food for thought
Creative Commons: Full post may be available under a free license.