Author: Fred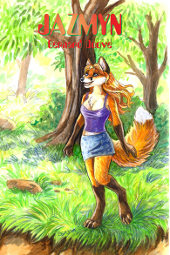 Jazmyn, a bioengineered vulpeen (fox-woman) Companion in a parallel world, is fleeing into the forest after the murder of her human lifemate when a lighting flash enables her to stumble into our world. She is glancingly struck by the car of Ken Morita, who nurses her back to health, teaches her English, falls in love with her, and they get married and live happily ever after.
The End.
No, seriously. There are plenty of interesting and well-written details between page 7 and page 214, but that is the basic story. You can hardly imagine a more pure Furry wish-fulfillment novel: a beautiful, caring, talented human-sized fox-morph comes to our world, falls in love with [you], and they get married.
CreateSpace, April 2009, trade paperback $ 16.95 (215 pages; illustrated).
Find the full article here: flayrah – furry food for thought
Creative Commons: Full post may be available under a free license.