Author: Fred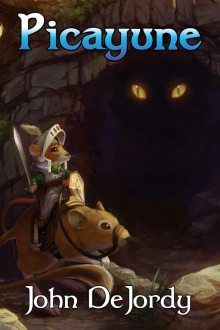 If this was a commercially published novel, it would probably be age-rated 8 and up. That's all right; Brian Jacques' Redwall books are age-rated 8 and up, too. Picayune is a similar rousing and fast-moving talking animal adventure that all ages can enjoy.
Chapter One is misleading. Picayune (Sir Picayune?) is a knight in the service of the king. When a black dragon destroys the capital city and lays the kingdom to waste, the king charges Picayune to, "Defeat that hideous monster at any cost." Picayune and his noble horse slog through a dismal mire and undergo numerous hardships to find the dragon's lair. Picayune and the dragon battle to their apparent mutual death …
Belleview, FL, self-published/CreateSpace, September 2011, trade paperback $ 7.99 (202 pages), Kindle 99¢.
Find the full article here: flayrah – furry food for thought
Creative Commons: Full post may be available under a free license.