Author: Fred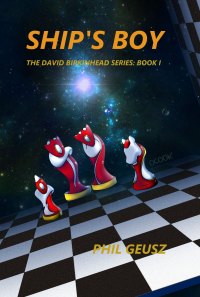 Flash! Phil Geusz abandons writing anthropomorphic fiction; switches to military s-f to dramatically increase sales.
Featuring genengineered rabbit- and dog-morph soldiers.
Phil Geusz and Legion Publishing have chosen an unusual format in which to publish the adventures of David Birkenhead. Instead of publishing them together as three or more novels, they are putting out a set of seven booklets of roughly 100 pages to 150 pages each. Although most are available in trade paperback editions (and there was a 106-page trade paperback booklet edition of Ship's Boy as a promotional giveaway at Anthrocon), Geusz and Legion expect virtually all sales to be of the Kindle e-books, to Amazon.com readers who cannot pass up the bargain of a "whole book" for only 1¢ or 99¢ or $ 2.99 in these days when an ordinary paperback is $ 8.
They are being marketed as military s-f, not Furry fiction. Amazon.com's advertising targeted to its customers who buy military s-f is, "Are you looking for something in our Science Fiction & Fantasy books department? If so, you might be interested in these items," with a list that includes the David Birkenhead books among ten or twelve other military s-f titles.
And it's paying off. Geusz reports that:
[…] earlier today I had two books ranked in Amazon's top 100 for SF. […] Both were in the 90′s, but they were there. […] There are almost never any furry books listed in connection with the Birkenhead buyers — it's all either military SF or straight action-adventure stuff. So it's fair to guess that only a tiny proportion of my buyers are furs.
Will Geusz and the David Birkenhead series bring new readers to Furry fandom?
Find the full article here: flayrah – furry food for thought
Creative Commons: Full post may be available under a free license.