Author: Fred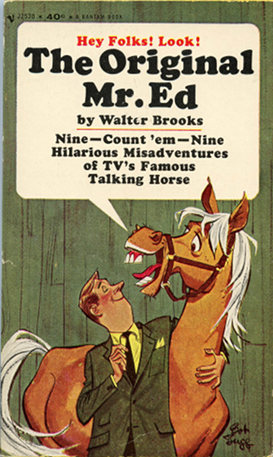 Walter R. Brooks (1886-1958) is remembered today as the author of the Freddy the Pig children's books. But from 1915 through the late 1940s, he was also a prolific writer of almost 200 adult short stories for popular magazines like The Saturday Evening Post, Colliers, and Esquire. Among those short stories were the series of humorous fantasies about the talking horse Mr. Ed and his often-drunken owner Wilbur Pope. There were 23 of these between 1937 and 1945, for Liberty, Esquire, The Saturday Evening Post, and Argosy. (Plus two more unsold stories included in the 1963 collection.) Brooks eventually stopped writing anything besides a yearly Freddy the Pig novel, illustrated by Kurt Wiese. The Freddy novels came to be eagerly anticipated annually by children's librarians and young readers, while Brooks' earlier magazine short stories were forgotten.
Just before Brooks' death in August 1958, Arthur Lubin, a fledgling television producer fresh from his success as the director of most of the Francis, the Talking Mule movies for Universal Studios during the 1950s, licensed from him the rights to the Mr. Ed series as Lubin's first TV program. There was also a connection between the Francis movies and the Mister Ed TV series in that Lubin employed the same animal trainer, Lester Hilton. It took three years, but Lubin and the Filmways Television Productions company sold the concept to sponsor Studebaker Corporation for TV syndication in January 1961, and then to CBS for network broadcast in October. Mister Ed, starring Alan Young as a bumbling young architect and a golden palomino gelding named Bamboo Harvester as the talking horse, was an extremely popular TV comedy for six seasons from 1961 through 1966, and in reruns and DVD sales since then. Brooks' original mildly bawdy humor, emphasizing Wilbur's and Mr. Ed's comedic drunkenness and Ed's earthiness, was toned down considerably for the family TV audience.
Bantam Books (NYC), January 1963, paperback 118 pages, USD 40¢. Illustrated by Bob Bugg.
Find the full article here: flayrah – furry food for thought
Creative Commons: Full post may be available under a free license.