Author: dronon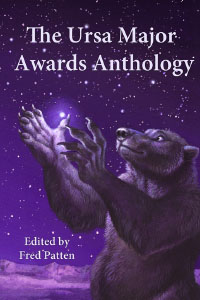 The Ursa Major Awards have been running since 2001, and one of the more difficult categories to vote in has been "Best Anthropomorphic Short Fiction", due to the works being scattered across various fanzines, magazines, con books and web pages. So I'm very glad that Fred Patten has edited together The Ursa Major Awards anthology: a tenth anniversary celebration, published by FurPlanet (2012), allowing us to read eleven stories from across the fandom collected under one cover. (341 p., ISBN 9781614500520)
See also: Reviews by Roz Gibson and Watts Martin
The original idea was to print the winning short story from each year of the Awards, but because Kyell Gold has won the popular vote consecutively from 2006 to 2011, this felt a little unbalanced towards the other contributors, so only three of his works appear here. (It skips In between from 2008 and Bridges from 2010.)
To pad out the book a little more, three Ursa-nominated stories were also included. Most of the works are about 20-30 pages in length, with occasional illustrations from artists such as Synnabar, John Cooner and Vicki Wyman. The gentle, moonlit cover art was done by Blotch.
Find the full article here: flayrah – furry food for thought
Creative Commons: Full post may be available under a free license.