Author: Sonious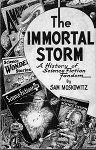 Sometimes furries plan more then just the weekend for their conventions, some even staying until late Monday or Tuesday morning. Those attending FurFright in Connecticut this weekend might be well-advised not to stick around for too long, as two major storm systems are looking to converge somewhere along the east coast. Many in the press are calling this event "Frankenstorm" (and I thought furries were bad with the pun neologisms).
Hurricane Sandy currently resides off the coast of Florida and is heading in a north direction. Meanwhile, in the Midwest, a storm front known as a nor'easter is heading east. These two types of storm when taken separately are not anything to take lightly; combined, they are sure to cause great devastation.
The current question is where. Some models have it landing as far south as Virginia, but other models have Sandy going north and in the direction of Long Island and Connecticut. It would be estimated to arrive in Connecticut late Monday to Tuesday. However, conditions could worsen even before then, as the storm is about 800 miles in diameter.
Find the full article here: flayrah – furry food for thought
Creative Commons: Full post may be available under a free license.