Author: Fred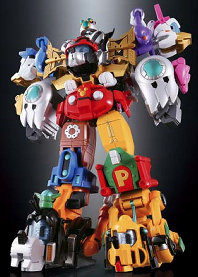 Hot on the heels of the news of Disney partnering with luxury fashion clothes designers to create exclusive duds for attenuated versions of Mickey, Minnie, Daisy, Goofy, and other classic Disney characters, comes this news that Disney is also partnering with Japanese toymaker Bandai to smooch said classic Disney characters together into a single "Voltron-style" transforming giant robot – coming in March 2013.
It may sound like a parody, but the Cartoon Brew website has a publicity picture of this "King Robo". Mickey, Minnie, Donald, Daisy, Goofy, and Pluto (plus Pluto's doghouse and Steamboat Willie's riverboat) into one giant robot! Like they say, we couldn't make this stuff up. Check it out.
Find the full article here: flayrah – furry food for thought
Creative Commons: Full post may be available under a free license.