Author: Mister Twister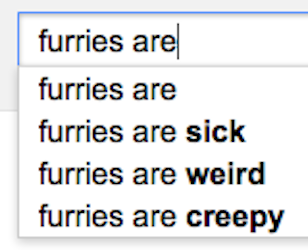 I detest unnecessary wordiness, but keeping it short just doesn't work.
Before I begin, I would like to present an apology of sorts to Patch Packrat. I very much dislike to be misunderstood, but also cannot stand to be the source of said misunderstanding. I guess I should have been more clear with my choice of words.
Now, with that out of the way, today's topic.
Throughout the years, I have been around the various reaches of the web, and met a ton of really good artists. Many really liked to draw humanized animals (for fun and profit). For some, the subject made up most of their galleries; some drew furries exclusively. As we conversed, the topic of furries inevitably arose. Aside from the occasional "yep, I'm a furry", most replies went something like this:
I like drawing talking animals, but I don't have a fursona/fursuit, so I'm not a furry.
I like drawing talking animals, but to me it's not a "lifestyle", so I'm not a furry.
Furries are creepy, and I don't want to be associated with them.
Answer #3 was the most prevalent.
Find the full article here: flayrah – furry food for thought
Creative Commons: Full post may be available under a free license.