Author: Fred
Zootopia (working title). A Disney animated movie about talking animals. How original!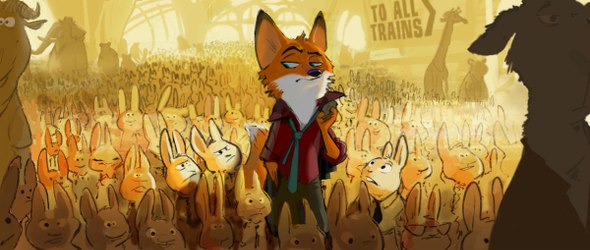 Amid Amidi reports on his Cartoon Brew website about Disney's plans to produce a 2016 animated feature about a fox and rabbit "odd couple" in a world of talking animals. Let's hope this gets farther than Silly Hillbillies on Mars. (Hey, Disney, whatever happened to that?)
Disney still has to go some in the odd couple teamups to beat Roger Rabbit & Eddie Valliant. Ah, but "The twist is that the entire film is set in a world in which humans never existed (a la Pixar's Cars) and animals have built everything." How original! Hmmm — Robin Hood? The Lion King?
This could be interesting, depending on whether Disney does anything with the predator-prey situation as in Bill Holbrook's Kevin & Kell setting. It's too early to tell.
Find the full article here: flayrah – furry food for thought
Creative Commons: Full post may be available under a free license.