Author: crossaffliction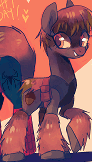 I recently learned that Marvel's superhero MMO Marvel Heroes will feature a playable Squirrel Girl (as well as Rocket Raccoon), voiced by Tara Strong. That means that Doreen Green and Twilight Sparkle have the same voice, and that's awesome. So, since I've got a Marvel title and a My Little Pony title this time around, I decided to share that tidbit, and dig up some "Squirrel Girl as a pony" art to go with it.
Find the full article here: flayrah – furry food for thought
Creative Commons: Full post may be available under a free license.